Light, wind, or sound… Control with one finger. Home automation in the future.
Convenient and easy to operate by anyone, nasnos is a product that can be used for a long time with confidence. It is also easy to install and comes with a reasonable price. Of course, you will like its good looks and comfortable use, too.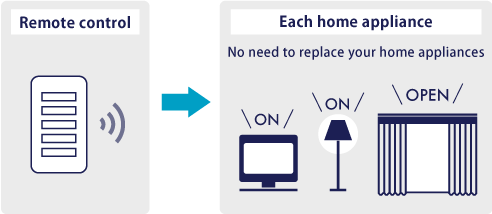 What's Nasnos?
You can operate curtains, lights, TV, etc. with just one remote control. Nasnos products do not require complicated construction.
Whether you are planning to build a house, have built a house already, or live in a rental house, you can rest assured that Nasnos products do not require complicated construction and that you can continue to use your curtains and lighting equipment.
Nasnos develops and manufactures everything from electric curtains & blinds, lighting dimmers, to remote control units, which allows easy total coordination. Its simple and stylish form harmonizes with your room, and you can enjoy its various uses and combinations as you like.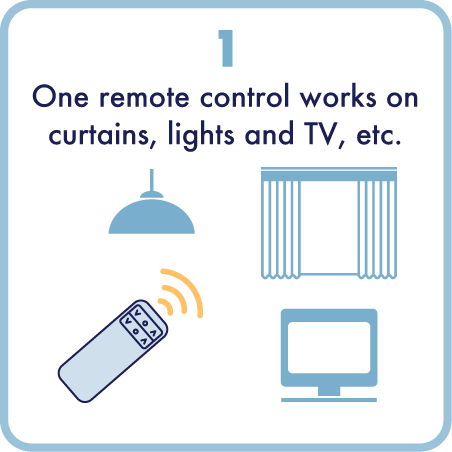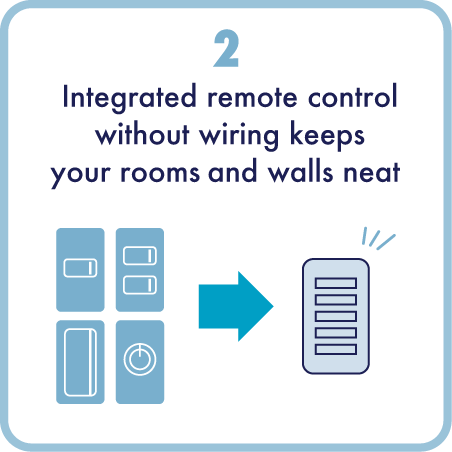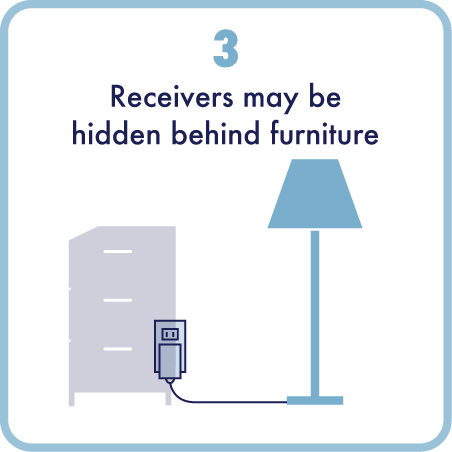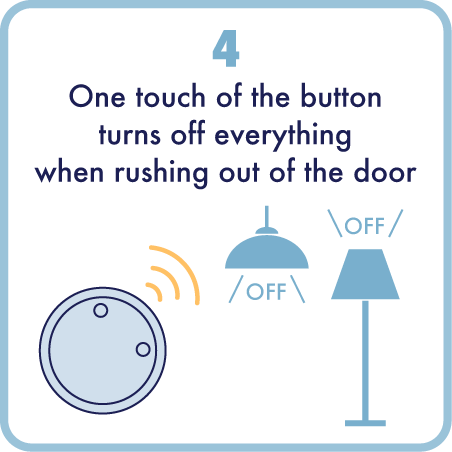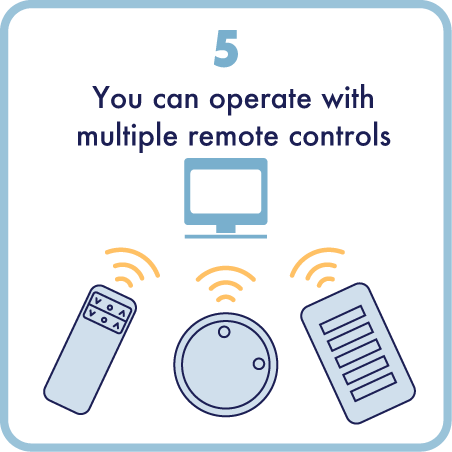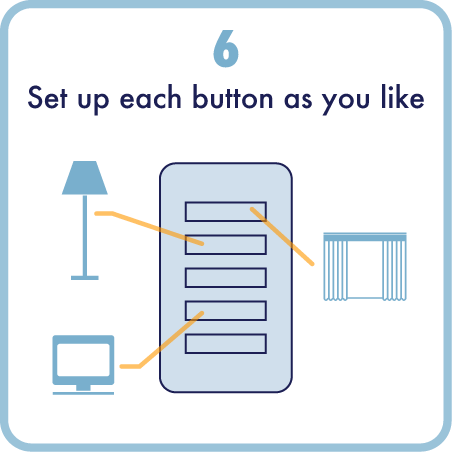 Main products
Remote controllers
You can choose a remote control suitable for your purpose from a rich selection of designs.
Close the curtains and turn off the lights all at once with a single button, or wake up with a refreshing feeling in sunlight by opening the curtains at the preset time in the morning with a timer function of the remote control. Remote controls of nasnos provide various convenient and new ways of use.
We offer you a variety of designs including hand-held type, wall-mounted type, alarm clock type, and Wi-Fi type that can be operated from iPad or iPhone.
Most of electricity-driven things such as curtains, lights, home appliances, etc. can be operated.
You can choose a controller with the timer function, scene function, or home appliance control function to meet your purpose.
You can also operate multiple lights and curtains with just one button.
Remote controls of nasnos are all wireless and have a stylish design without cables.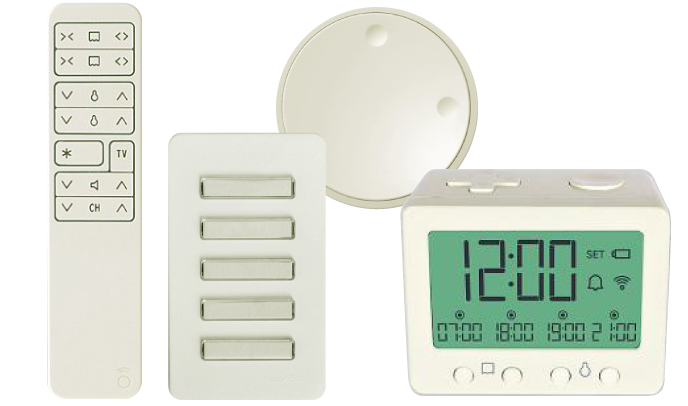 Lighting dimmers
Our lighting dimmers produce a variety of lighting scenes.
Dimming is a magic. Changing the brightness of the lights can alter the atmosphere of the room dramatically. You can produce a wonderful atmosphere in your room by simultaneously controlling multiple lights with a remote control or choosing the right scenes.
You can change the brightness of the lights freely as well as turn them on/off.
All dimmers of nasnos have a built-in receiver and wiring is unnecessary.
Our dimmers include plug type, built-in type, compact type for furniture, dimmers for chandeliers and for pendant lights.
Plug type and ceiling type dimmers can be installed by yourself.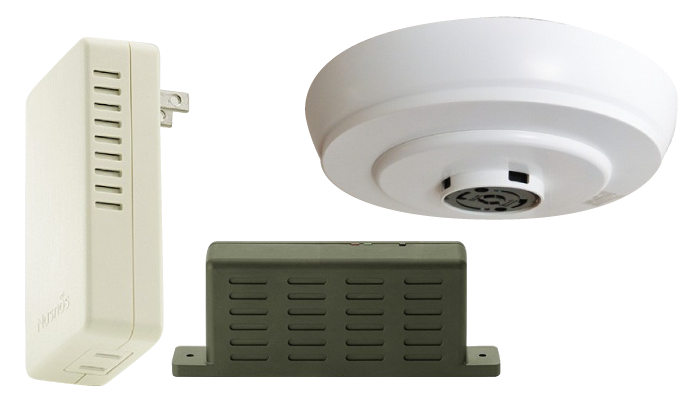 Electric curtains
You can use our electric curtain rails in various scenes from houses to public facilities. Nasnos fits into your room very well, bringing delight to your life.
All curtains of nasnos are integrated with the instrument and wiring is unnecessary.
Both individual and simultaneous operation are possible with simple button settings.
Easy to install and operate with a simple design.
Quiet design that suppresses the noise and vibration of the motor.
Compact design to fit in the curtain box.
Movement is smooth with a slow start and a slow stop.
Installation example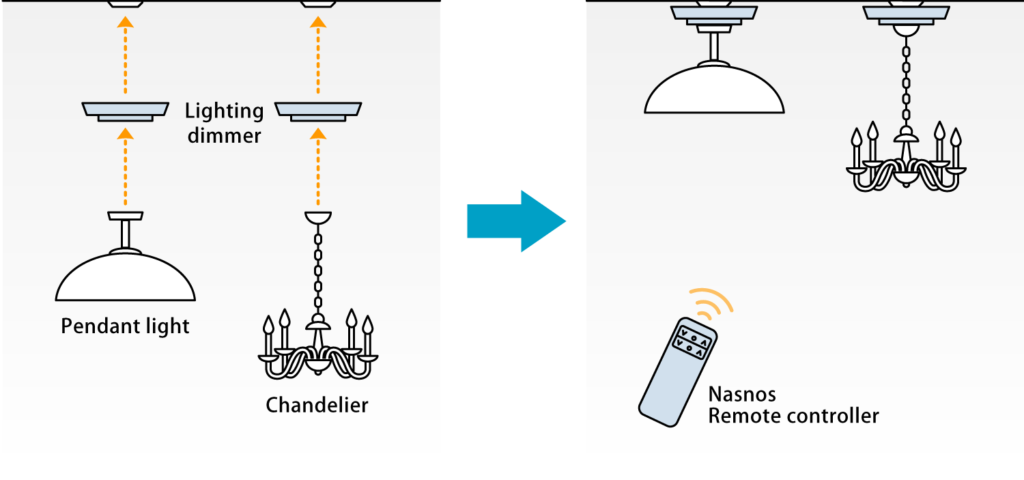 You can purchase Nasnos' products from the website linked below.
Our shopping website "REMONO"