ROOM LEAD™ solves the following problems of your conference rooms.
Conference room administrators: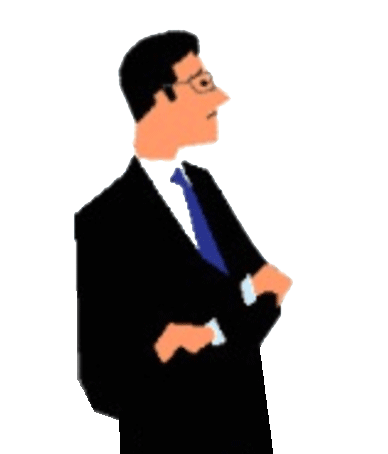 Do not know the actual status of usage of conference rooms and do not know how to improve it.
Are told from the users that there are not enough conference rooms and it is difficult to make a reservation.
Would like to raise the utilization rate of conference rooms without adding any more rooms.
Conference room users: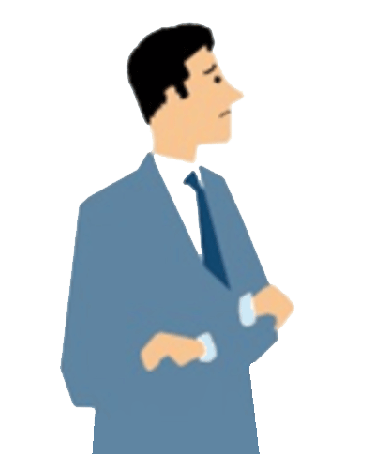 Have difficulty reserving a conference room due to the full occupancy.
Find that reserved conference rooms are not being used.
Find that their reserved conference room is being used by others.
Often have difficulty reserving a conference room of the size suitable for the number of participants.
What's ROOM LEAD™?
ROOM LEAD™ is a system that centrally manages operations such as searching vacant rooms, checking the schedule, or reserving conference rooms and so on.
This cloud-based system reduces the initial cost and takes no time or expense for maintenance and upgrading. Moreover, using Internet browsers enables the introduction into any operating environment.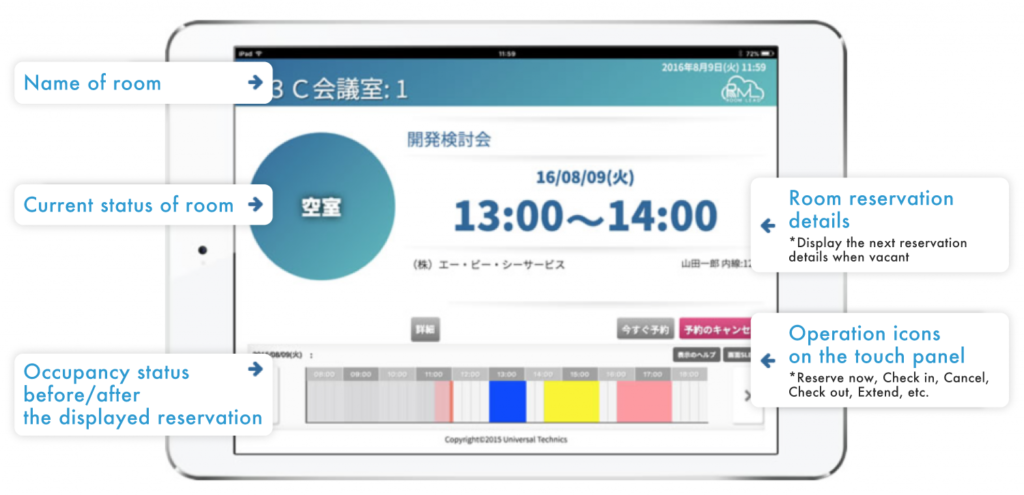 Easy and convenient booking system
"Reserve" a room from a terminal in front of the room
You can "Reserve Now" from the PC on your desk or from your smartphone while on the go, as well as from a terminal in front of the room.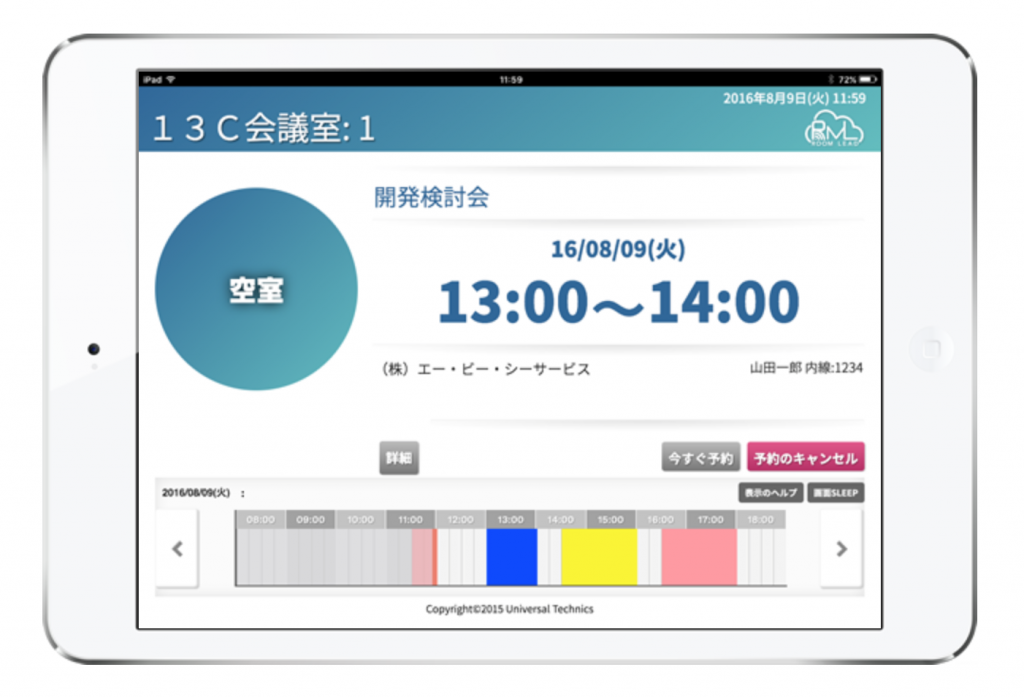 "Check in" to prevent empty reservations
If you don't "Check in" to the room, the reservation will be canceled automatically after the scheduled start time.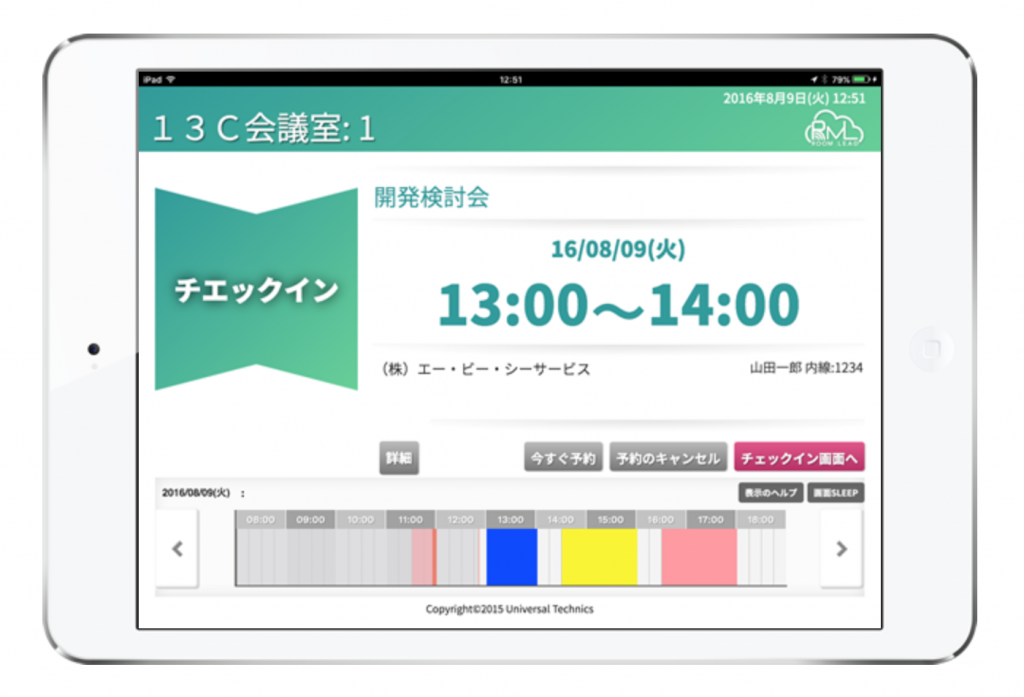 "Extend" the conference also from the terminal
You can extend the use of the meeting room from the terminal.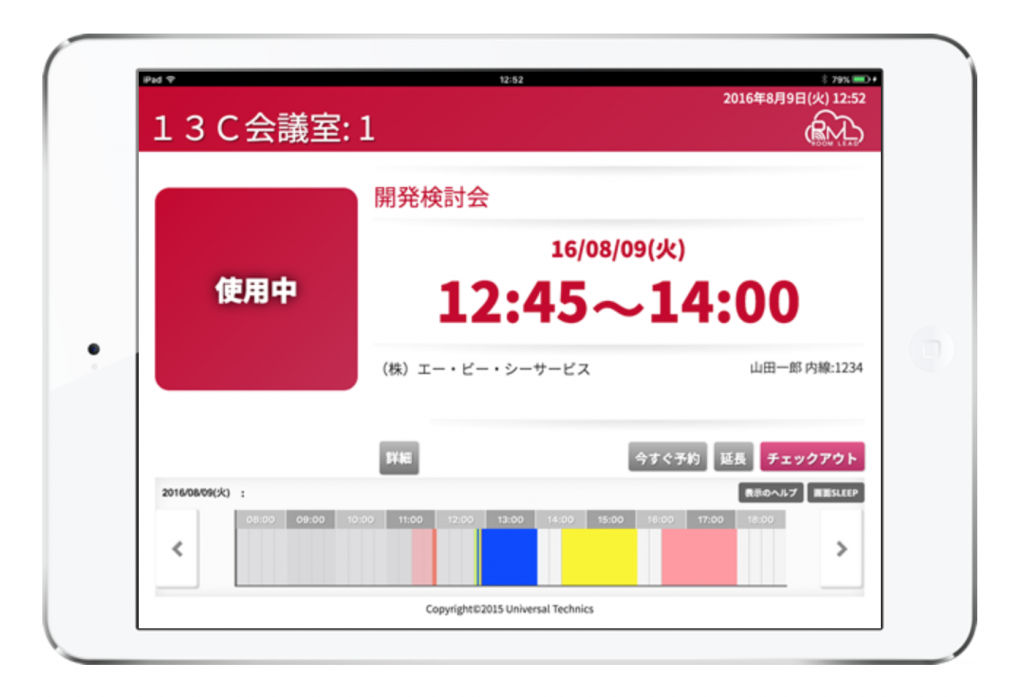 Current status at a glance
You can check the status of meeting rooms at a glance with the status display. In addition, displays such as "vacant" or "used" can be changed to any displays such as "unused", "in conference", etc.


Visualization of Usage
Display contents of the conferences of the day in a schedule format
Each conference can be displayed in the color specified in advance depending on the themes of the conferences. Names and colors of themes can be designated as you like.


Features unique to cloud services
Check the reservations and the usage status of the conference rooms from your smartphone while you are outside, as well as from the PC on your desk.
Start using it immediately without introducing any new equipment.
Subscribe to the service with the monthly fee per conference room.
Management and analysis
Centralized management terminal (floor monitor)
By installing a floor monitor, you can check the status of multiple conference rooms.
Also, when you cannot install a room monitor in each conference room, you can still centrally manage every conference room by installing one floor monitor, enabling operations such as making a reservation, checking in/out, or extending the conference, etc.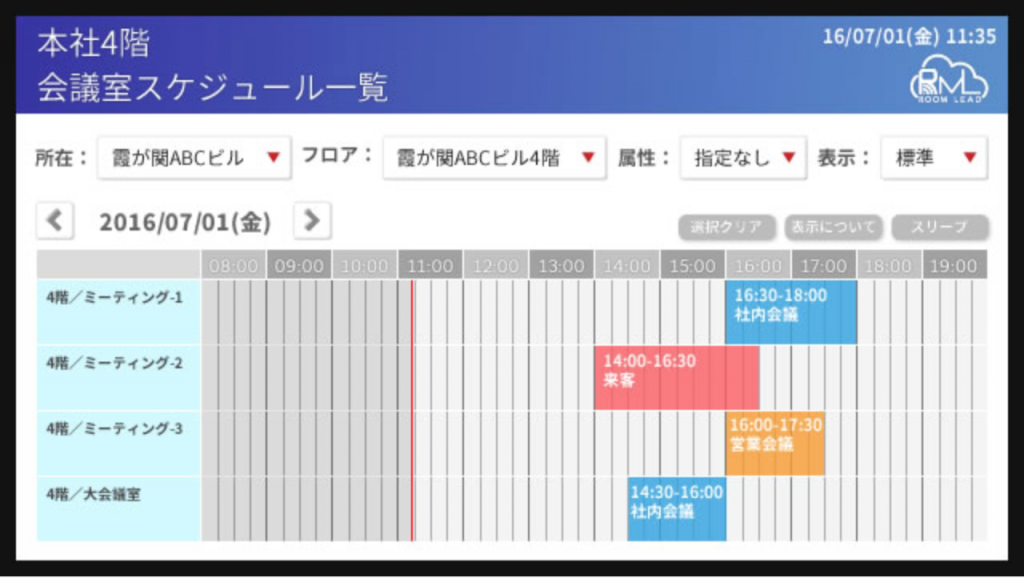 Analysis report
Analysis report helps you as a guide to reduce unnecessary conference room space by monitoring rarely used conference rooms and empty reservations.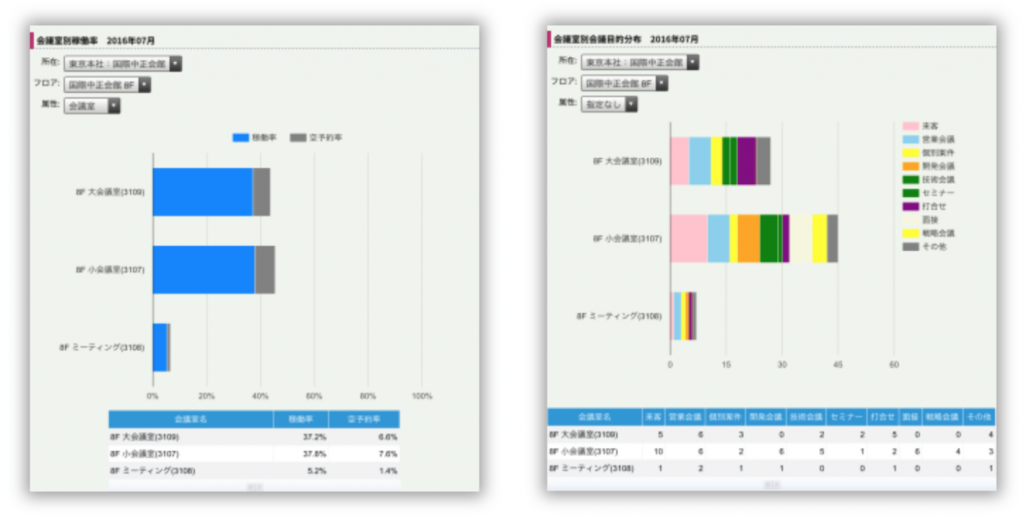 Lineup

For more information on ROOM LEAD™, please visit the website of Universal Technics Co., Ltd.
http://www.utnet.co.jp/roomlead/