Features
When INTELUX is attached on a display and you turn on the display, a clear image will be displayed through the glass, keeping you from noticing the presence of the mirror glass. When you turn off the display, it functions as a mirror and becomes part of the interior or the architecture.
When you turn off the normal display, it becomes a black object that interferes with the space design in terms of the interior decor. With INTELUX, turning off the display allows it to become a mirror and to exist naturally in the space.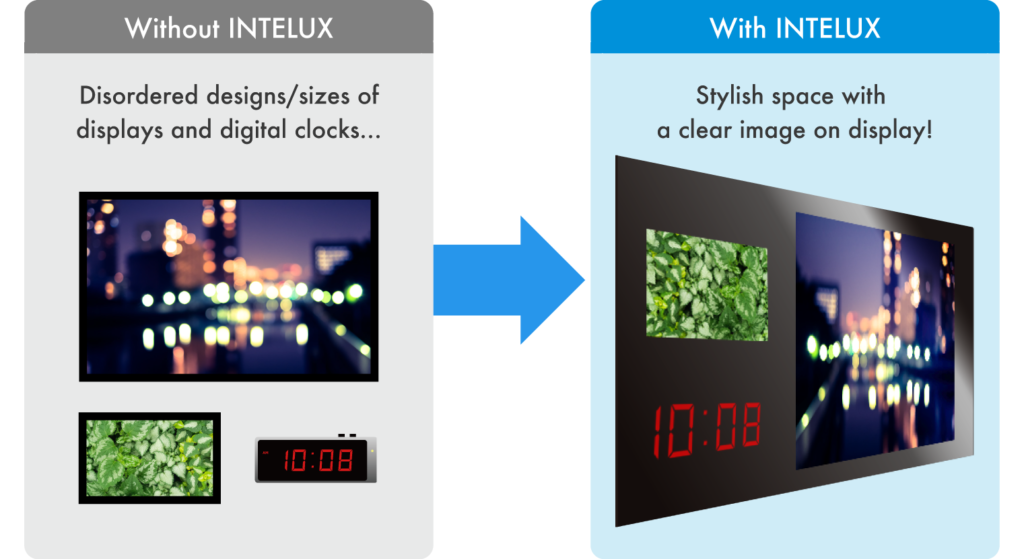 By installing INTELUX on a display, etc., the display's presence as a hardware including its frame disappears, and you can set up the displays and the space in a totally new way.
Feature 1: Integration with sensor technologies
INTELUX is integrated with various sensor technologies including "touch sensors".
This is a completely new possibility and a big feature of INTELUX, as opposed to conventional one-way mirrors and magic mirrors


Feature 2: High image quality
High image quality is ensured by minimizing the transmittance loss of light (image).
INTELUX makes clear images (light) emerging from a mirror that reflects the surrounding landscape, and opens up the possibilities of new designs by making full use of its affinity with the environment and its mysterious staging effect as a mirror.

Feature 3: Excellent versatility and workability
TV displays to be combined with INTELUX are not special ones.
Most commercially available TVs can be used. Of course, the latest 4K TVs are also supported.
As far as it fits within the size of INTELUX, the number and the layout of displays or LEDs are not limited. In addition, its handling and installation are similar to normal glass, and mounting it on the wall is simple and easy as shown below.
Both built-in and outer installation are possible, and it is easy to maintain.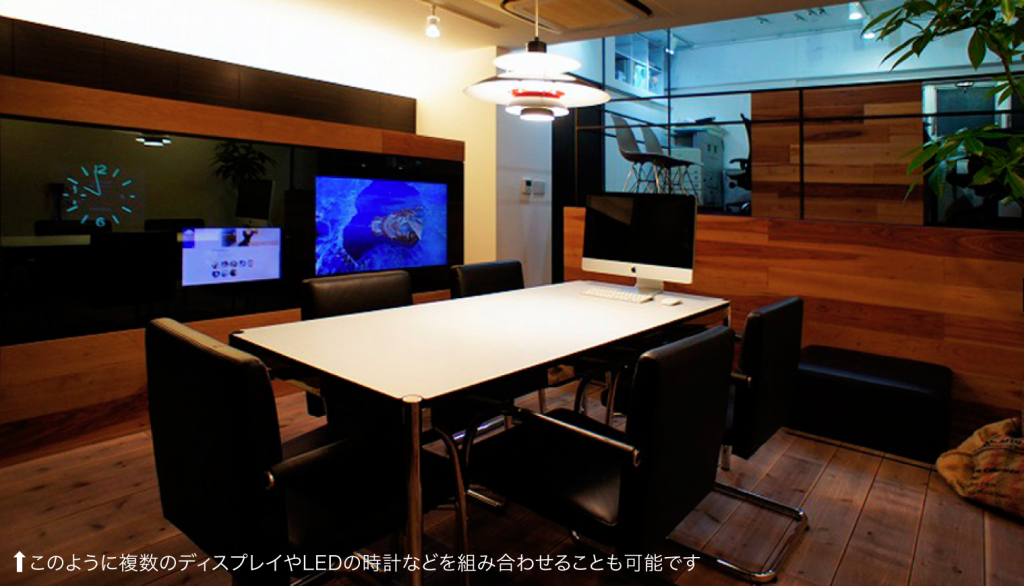 Color variations
Maximum size
1420×3000 mm
(You can customize the size by the millimeter. Please consult if the desired size exceeds the maximum size.)
Types
INTELUX is available in various types such as touch panel type and glass table type.
Depending on your ideas, you can install it as you like. You can produce a new and attractive space according to the scene.
Touch panel type
This is an interactive digital signage system with a touch panel function.
With the mirror effect of INTELUX, the display disappears when turned off, and it blends naturally into the space by reflecting the surrounding landscape. Large-scale construction work is not necessary at all, and you can make the glass of the existing show window into digital signage or a video screen.
It can be used without damaging the glass of the existing show window, and therefore it can be installed even in a rental space.
Colors: Mirror/Light mirror/Dark mirror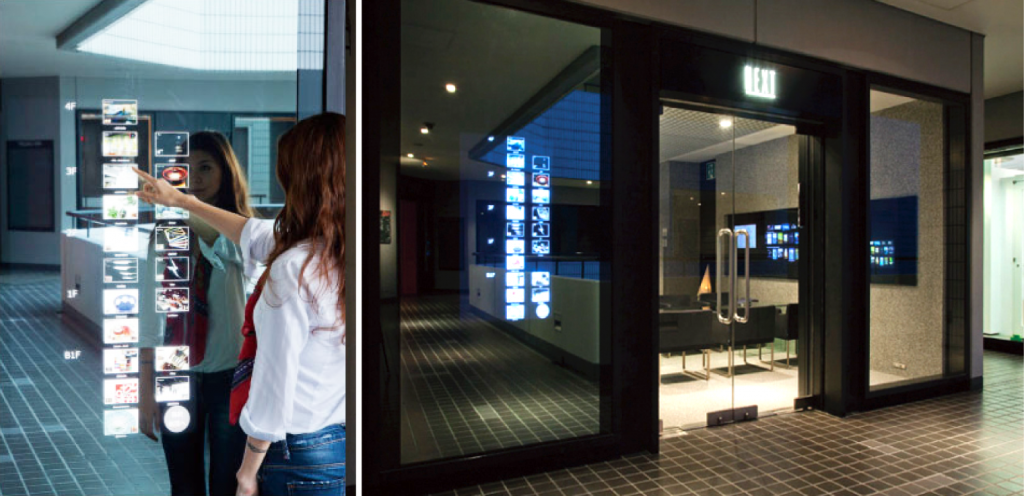 Multi-vision type
INTELUX can accommodate televisions, computers, security cameras and information terminal displays, which are overflowing in the living scene, all together in one single mirror.
You can break free from the designs without a sense of unity of each display, and benefit from a clear and beautiful space. In addition, INTELUX also plays an active role as a multi-vision device to accentuate the space by showing the digital art using a mirror effect.
Colors: Mirror/Light mirror/Dark mirror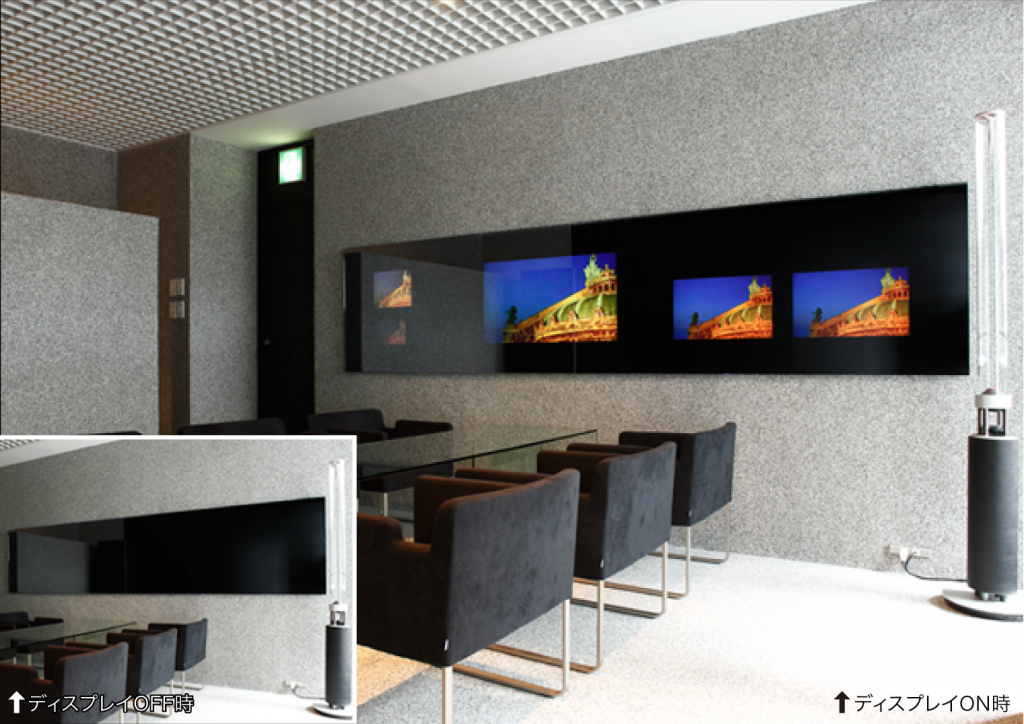 Example of digital art using a mirror effect
Mirror effect reflects the scenery in front, creating a sense of depth in the space.
INTELUX, for example, can create an interesting space where an airplane is floating in the air, just by showing a simple video of the airplane.
Freestanding movable type
With a built-in human detection sensor, this type can switch to an information terminal or a full-length mirror from a video screen, when a person approaches within a certain distance. You can flexibly use it depending on your ideas.
As signage welcoming customers at a reception desk, as advertising signage showing announcements and videos, or as a full-length mirror, this freestanding mirror changes its appearance as people approach and smartly blends into the space.
Colors: Mirror/Light mirror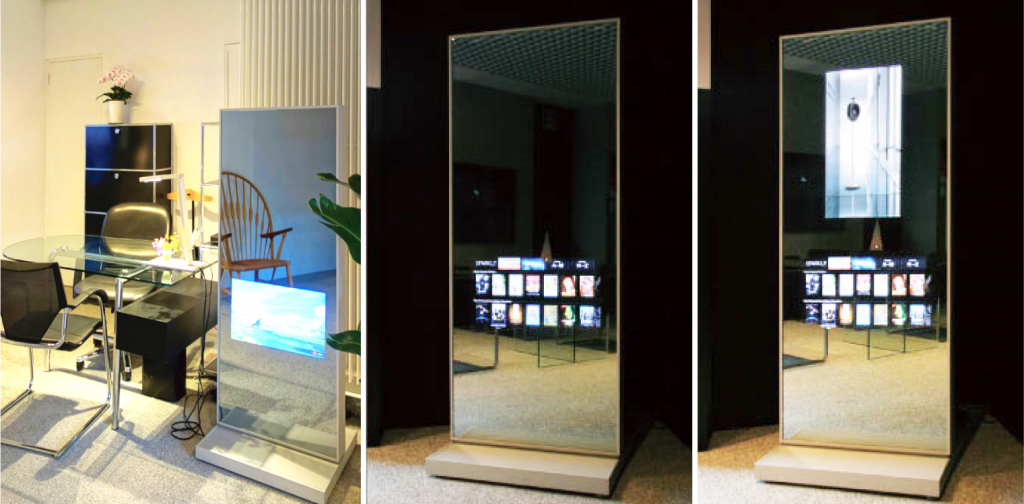 Full-flat glass table type
This is a next-generation information terminal that draws out information from any database to the "desktop" of the full-flat glass table.
Once you place a glass table type INTELUX in a meeting room or as a dining table, you do not need any more things like PC or iPad. Its built-in multi-touch sensor allows multiple people to operate different information at the same time.
INTELUX smartly displays presentations, meetings, and moments of quality family time with flexible operations including zooming in and out.
Colors: Light mirror/Dark mirror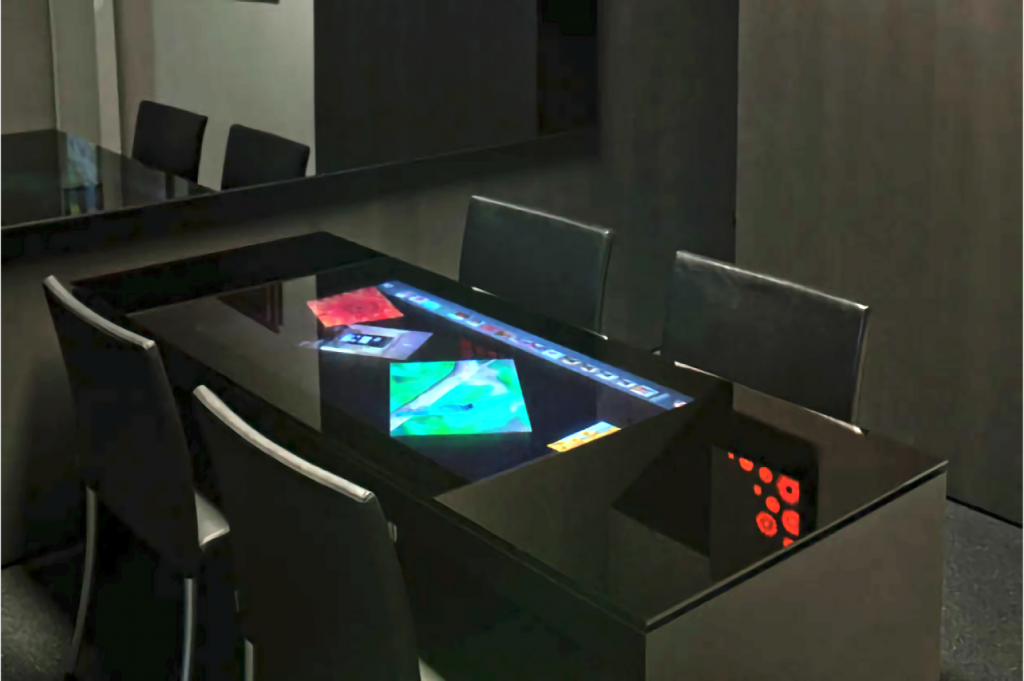 Interior design mirror type
By placing INTELUX in a beautiful frame, it functions as a display showing images while maintaining its decorative nature as a mirror. The frame and the size can be customized according to the intended style in order to meet requests of those who give special attention to the details in the room.
Colors: Mirror/Light mirror/Dark mirror


Curved surface type
The light reflected from the depths of the curved mirror is a mixture of the light on the curved surface and the flat light, which realizes a space with depth.
Colors: Mirror/Light mirror/Dark mirror