Company info
Service
Contact
Company name
SOUNDVISION Co.,Ltd.
Address
#102 MEISTER YOTSUYA, 1-17-5 Yotsuya, Shinjuku-ku,
Tokyo 160-0004, JAPAN
TEL
+81-3-6913-6601
FAX
+81-3-6913-6606
Incorporated
November, 2004
Capital
10 million yen
Directors
Chairman:Tadao Fukuda
President:Mutsuo Kamata
Employees
5 employees
Service
Design, construction and maintenance of video and audio equipment and their control systems for conference, executive, and presentation rooms
Design, construction and maintenance of lighting equipment and lighting control systems
Sales of digital signage systems for commercial facilities and events
Design, construction and maintenance of home theaters and home automation systems
AV systems
We offer the selection of necessary equipment for conference and presentation rooms, as well as the systems to control them.
The control system supports touch panel operation, allowing anyone to operate complex equipment easily with an intuitive and easy-to-understand operation screen.
One-touch operation enables collective control of all types of equipment, including AV equipment, lighting, and motorized equipment.
Furthermore, it supports the latest web conferencing system, improving the sound and video quality of web conferencing to yield smoother online communication.
Please feel free to contact us for a system proposal tailored to your needs.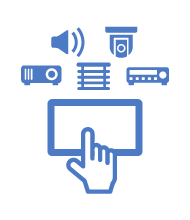 Signage systems
We propose signage systems that make commercial facilities, theme parks, and offices more attractive. A signage system is a system that transmits information using electronic display devices such as displays and touch panels. Unlike posters and other signboards, a signage system displays multiple advertisements and videos even at a single location. Therefore, it enables to provide information and display advertisements tailored to each individual customer. We have a proven track record of installing signage systems in a wide variety of facilities.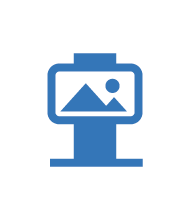 Home theaters & home automation
With a single touch, the curtains close, the lights dim, and the standby movie starts…
Would you like to make your home environment more convenient and comfortable by installing our system?
We propose plans for home automation, home theater, and more to suit your home environment and budget.
If it is upon a new construction or renovation, we can make a wider range of proposals.
In addition to the operation of AV equipment, the integrated control is also available for lighting, air conditioning and security.
Our original program makes it easy to understand and simple to use, even for those who are not familiar with AV equipment.
Please feel free to contact us for any questions about selection of equipment or details of equipment.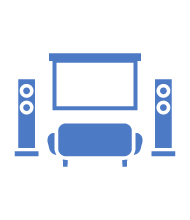 Contact
Inquiries by phone
Please feel free to contact.
Monday – Friday: 9:30 a.m. to 5:00 p.m.
We are closed on Saturdays, Sundays and holidays.
Inquiries by e-mail form